Introducing: Hyperspektiv
Download (iOS) | Website | Instagram
E
very once in a while, a new creative application comes into the world and shatters those that came before it. Hyperspektiv is naturally designed to create beautiful and interesting visuals, perfect for Instagram, Facebook, or other marketing needs. Designed in part by Glitch Mob member Boreta, Hyperspektiv is a reality-bending, game changing app with extreme power and usability.
---
What Hyperspektiv Does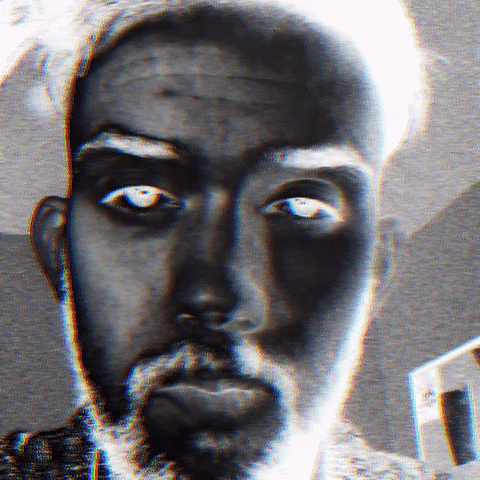 Hyperspektiv allows users to immerse themselves in a real-time distorted reality. Hyperspektiv uses video filters that users can control live (think Kaoss Pad for video). The app also offers several preset parameters for each filter which can be tweaked to customize the filter even more.
This highly flexible, real-time video effect engine allows for incredible flexibility and visual range from psychedelic fractals to glitched-out CCTV footage, and everything between.
---
The Experience
When you first open Hyperspektiv, you're greeted by a simple interface and a quick tutorial. The app itself feels familiar, almost like a grungier, cyberpunk version of Instagram .
Up top, there's a small toolbar with the app logo and button to switch filming between the front and rear facing camera.
Dead center in the app is a large square preview window, where you can see your effects take over your camera live and on the fly. You can move between settings for the video effects by tracing your finger along the preview screen. Tracing vertically will control one set of effects. Tracing horizontally will control another. These live, controllable video effects are what makes Hyperspektiv a revolutionary creative tool. Video effects can be controlled & viewed when you are recording and standing-by.
Below the preview window is the filter gallery containing the different live effects. There's several filters of different categories, from fractal generators to psychedelic recoloring to broken TV glitches and much more. Once you select a filter, you can tap on the filter name to show the individual preset options for each filter. Here you can fine-tune the look of the filter before you start filming. There's even a Random filter at the far end of the gallery, which creates intensely strange and unique effects on the fly. (My personal favorite filters are Lugo
si, Kaos, Terminator, and Mescal. I like the glitches.) 
At the very bottom of the app is a large record button to start and stop your filming. Next to it is a small camera icon where you can take a picture of what your video effect currently looks like.
When you finish recording your masterpiece, you can choose to share and save your video, or exit out by tapping the "Done" button at the top of the screen. Hyperspektiv encourages users to share their works of art, and provides instructions on how to get featured on the
Hyperspektiv Official Instagram
.
Hyperspektiv records square videos (1:1 aspect ratio) by default. By rotating your iPhone horizontally, you can enter full screen video mode, and record a landscape video at full iPhone resolution & aspect ratio. When you rotate to full screen mode, the filter gallery and preset options are hidden, but you can still improvise video effects by tracing along the screen.
In the latest update, Hyperspektiv added a live 'VJ' mode where you can run visuals via HDMI or AirPlay, allowing you to take Hyperspektiv to the stage or even your own living room.
Quick Recap
What's done well
Powerful live video editing at the tips of your fingertips
Intuitive interface that's fast and easy to make amazing art
EDM-suitable effects useful for promotional and music videos
Large, varied filter gallery
Editable presets options for each filter
Square & full-screen landscape aspect ratios
Realtime HDMI/AirPlay output
Export to Instagram, Camera Roll, Dropbox, Google Drive
Snapshot photo taking
What I would like to see added
Import photos/video from camera roll [confirmed in-progress]
Overlay audio to make in-app music videos (can be achieved by using other apps with Hyperspektiv, but it would be powerful to have it all-in-one)
Full-screen portrait recording
Sharing with iMessage, Apple Mail, Gmail
Filter creator & ability to save custom-created filters
iPad app for professional VJing
MIDI/Bluetooth controller integration
.GIF Export
Android compatibility (share the love)
Layers/overlays (text or logo-only distortion would be extremely useful)
Miscellaneous thoughts & ideas
How would it look if you used Hyperspektiv with an iPhone fisheye lens? What if you tried light leaks/lens whacking?
With camera roll imports, how will Hyperspektiv process hi-def DSLR footage? Will Hyperspektiv become an easy alternative to professional video effect software for quick edits?
You could have a full VJ/concert video setup with the following suggested features: iPad app, camera roll imports, controller integration.
What if you were able to chain multiple devices together to stack filters on top of filters?
What if there was a pro-version of the app with advanced features like layers, controller integration, custom filters, etc. for the hardcore video junkie and the original Hyperspektiv was kept simple to use for the more casual?
Is hyperspektiv hyper-[per]spective or [high]-[per]spective? I think both, but not sure.
---
Conclusion
Hyperspektiv is nothing else but dope. It's a young app with a good feel and concept. I'm thrilled to see where the developers direct their attention and efforts to as the app evolves over time. This is definitely a creative powerhouse, and a must-have tool for marketers and creatives alike, especially those in the electronic music industry.
[Note: Hyperspektiv is currently on sale. Get it now!]
Shoutout to the Hyperspektiv team for hooking me up with the app to review!